Woah There
Release Date
February 20, 2014
Avail. Duration
Permanent
Kingdom / Movie
Tangled
(Night Fall)
Location
The Woods
Scene Type
Kingdom Scene
Search Style
Max Stars
Fuel Cost
10
Imagination Ink Cost
N/A
Rewards
XP
100
Ink / Item
Star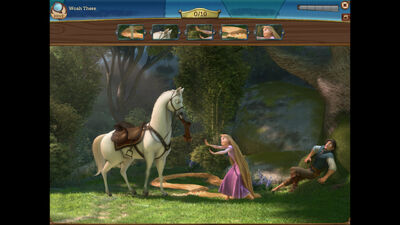 To Unlock
To unlock the first night fall scene for Tangled, you will need to craft the Campfire, however, since it requires Paper Lanterns to craft, you will need to accrue some additional star masteries from the Beauty and the Beast (Night Fall) scenes.
Ad blocker interference detected!
Wikia is a free-to-use site that makes money from advertising. We have a modified experience for viewers using ad blockers

Wikia is not accessible if you've made further modifications. Remove the custom ad blocker rule(s) and the page will load as expected.