See Them Dancing
Release Date
February 13, 2014
Avail. Duration
5 Days
Kingdom / Movie
The Little Mermaid
Location
Inkspire / Theater
Scene Type
Featured Scene
Search Style
Max Stars
Fuel Cost
5
Imagination Ink Cost
N/A
Rewards
XP
100
Ink
Star
N/A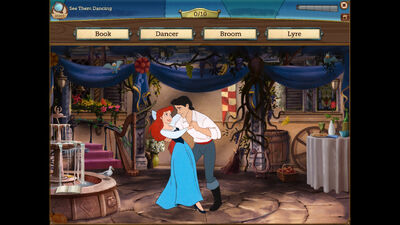 See Them Dancing is a featured scene made available on February 13, 2014 and is taken from the movie
The Little Mermaid
.
From the splash page, clicking on the "More!" button brought the player to The Little Mermaid's Facebook page.
Although the splash page has text indicating the scene is only available for one day, the counter indicates that there are 4 days left to play the scene.
Additionally, the splash page initially displayed a blank white box where a preview of the scene would normally be displayed.
Ad blocker interference detected!
Wikia is a free-to-use site that makes money from advertising. We have a modified experience for viewers using ad blockers

Wikia is not accessible if you've made further modifications. Remove the custom ad blocker rule(s) and the page will load as expected.