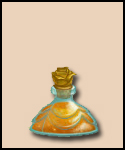 The last of five inks exclusive to the Beauty and the Beast kingdom. The ink is a key component when crafting to upgrade the West Wing of the Beast's castle or crafting important quest items.
Inventory limit is 50.
Rewarded From...
Used to Craft...
Ad blocker interference detected!
Wikia is a free-to-use site that makes money from advertising. We have a modified experience for viewers using ad blockers

Wikia is not accessible if you've made further modifications. Remove the custom ad blocker rule(s) and the page will load as expected.